Gerald Lomaventewma
Shungopavi Village
Silversmith
Primary Number: (928) 679-1059
P.O. Box 66, Second Mesa AZ 86043
This email address is being protected from spambots. You need JavaScript enabled to view it.: This email address is being protected from spambots. You need JavaScript enabled to view it.
Gallery opened May 2018, Qwa-Holo Hopi Silvercraft. Representing young Hopi, revitalizing old jewelry techniques, combined techniques to traditional style or technique. High light was winning the Division and Category in the Jewelry at the 2014 South West Indian Art Market in Santé Fe, New Mexico. Traveled Internationally to promote and educate public about Fake & Imitation. We have on display at our shop Louis Tewanima Memorabilia Hopi Olympian. mentoring Your Hopi On Jewelry techniques, representing your Hopi Artists.
Hours of Operation
9am-5pm Monday - Sunday
Tour Guides
The Hopi occupy an area of approximately 2,439 square miles in northeastern Arizona at an elevation of 5,800-6,000 feet. The Hopi people live in 12 villages located in four regions referred to as First Mesa, Second Mesa, and Third Mesa. While language custom and tradition are similar, each region has features that are unique from other regions. Traveling across Hopi is easy – simply follow Arizona State highway 264 which connects the Upper Village of Moenkopi at the western gateway with the other villages on First, Second, and Third Mesas. You will travel through some of the most open and pristine land in the American west. Tourists are welcome to visit the Hopi villages independently but the very best way to tour Hopi for the first time is with a tour guide who is certified by the Hopi Tribe.
The Hopi Certified Guides are exceptionally knowledgeable about the traditions and culture of the Hopi. Authorized Hopi Guides know basket makers, silversmiths, carvers, painters, potters, and weavers who will invite you into their home workshops. The Hopi villages are living villages – the original homes are still intact and have been continuously occupied for centuries. When visitors enter the villages they are entering into the current lifestyle of the people in the villages, and out of respect for this close proximity to the residents' personal lives, certain restrictions are requested of visitors - prohibited are: photography, sketching, videotaping, and audio recording of the village or landscapes, wandering near shrines or kivas, picking up loose feathers, hiking , climbing and exploring in non-designated areas, alcohol, drugs, and carrying of firearms. Some social ceremonies are open to the public. Visitors are asked to show respect by dressing appropriately when attending ceremonies.
You can be assured that the art you find on your visit to the Hopi mesas will be authentic and will be some of the most beautiful Native American art you have ever seen!
Evelyn Fredericks
Box 134
Kykotsmovi, AZ 86039
Phone:(928) 255-2112
This email address is being protected from spambots. You need JavaScript enabled to view it.
Tours with Evelyn
We are pleased to have you as our guest. On our customized tours you can visit Hopi villages, personally meet an artisan at work or explore canyons filled with hidden messages left by the Ancestors.
Each tour is planned with your group in mind. Accordingly, we ask for at least 48 hour notice.
Depending on the season, we suggest you bring sturdy walking shoes, a hat, sunscreen and plenty of water.
Evelyn grew up at Kykotsmovi, Arizona on the Hopi reservation. She belongs to her mother's clan, Bamboo (Bacavi). Her father was of the Coyote Clan. Growing up in a large extended family has influenced her craft directly in the form of the images that emerge in stone and clay.
Cost: Based on size of group and itinerary.
Visit www.EvelynFredericks.com for more information
Micah Loma'omvaya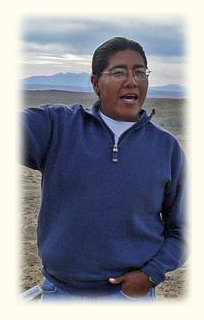 Micah Loma'omvaya, Hopi anthropologist/archaeologist, has created an accessible venue for sharing Hopi culture and knowledge about the Ancestral Pueblo traditions related to many of the Four Corners region's ruins and monuments. Micah's tour services are offered through various alternatives to suit your custom needs and selected activities.
My focus is to provide my guests with a unique perspective on the Hopi relationships to the ancestral places and traditions of the Hisat.Sinom, our Ancient Ancestors. My personal experiences in the Hopi culture and environment is blended with my education in cultural and natural resources management (archaeology, ethnobiology, linguistics, etc.) to give you an understanding of the lifeways of the prehistoric people who have converged to our modern Hopi villages and communities.
Tours of the Hopi mesas and villages provide visitors with a modern day look at Pueblo Indian life, foods, language, farming, arts and culture which we carry on to this day. As we have encountered various explorers and visitors to the Southwest, including the Spanish Conquistadores in circa 1540 A.D., we have shared our respect for the land, history and its essence.
P.O. Box 464
Second Mesa, AZ 86043
Phone: (928) 205-1634
Email: This email address is being protected from spambots. You need JavaScript enabled to view it.

Website: www.HopiTours.com
Click Here to view the brochure.
Hopi Tours are available for Weekends Only (Saturday and/or Sunday)
Full Day or Half Day Tours can be Reserved on the following dates:
Please indicate the date you would like to reserve and number of people.
We will reply to your request with an email confirmation if we can accommodate you.
You may also text message a request for a Tour Reservation to (928) 205-1634.
Ray Coin-Sacred Travel And Tours
P.O. Box 919
Hotevilla, AZ 86030
Phone: (928) 734-6699
fax: (928) 734-6692
Email: This email address is being protected from spambots. You need JavaScript enabled to view it.
Full Day Tour- $138.00 per person
8:00 a.m. -Depart Legacy Inn & Suites
9:00 a.m. - Arrive 1st Mesa for walking tour of Walpi Village (approx.45 mins, easy walk)
11:30 a.m.- Visit Hopi Museum
12:30 p.m.- Lunch - Hopi Cultural Center
1:30 p.m. - Walking tour of Ozaivi approx. 30 mins, easy walk)
3:00 p.m.-Visit Dawa Park. A petrogylph site with thousands of rock art drawings
5:00 p.m.- Return to Legacy Inn & Suites
*Price Includes: Transportation, All Fees & Lunch. Water Provided
For more info or booking reservations, inquire at the front desk
Third Mesa - $25 per person
Narrated tour through Kykotsmovi, Bacavi, stopping in Ozaivi for a walking tour of one of the oldest continuously inhabited towns in the United States. (2 hour tour)
First Mesa - $13 per person
Transportation to First Mesa village tour office (Ponsi Hall) for a narrated tour of Walpi. $13 fee paid at tour office. (2.5 hour tour)
Dawa Park - $35 per person
Visit a Petroglyph site with over 1,000 drawings. This site is located 25 miles northwest of the Cultural Center. The last 6 miles is on a dirt road and sometimes gets bumpy and dusty. Available when road conditions are favorable.
For more information visit: Website
The Left-Handed Hunter Tour Company
Gary Tso
P.O. Box 278
Second Mesa, AZ 86043
Phone: (928) 734-2567 Cell: (928) 206-7928
This email address is being protected from spambots. You need JavaScript enabled to view it.
Left-Handed Hunter Tour Company was established in 1998. It was created to give our visitors a positive and true vision of the Hopi Experience.
Tours are conducted by licensed tour guide, Mr. Gary Tso who is a member of the Hopi Tribe. He is of the Sun Forehead Clan and from the Village of Soongoopavi. He served 4 years in the U.S Marine Corps. And is a single father of 4.
He has been Recommended by the New York Times Travel Section, National Geographic Adventure Magazine, National Geographic Travel Magazine, Fodors Travel Guide, Frommers Travel Guide and 1,000 Things to See before You Die. He has also been listed #3 in the Arizona Highways for the top 25 weekend getaways for 2009.
Full Day Tour
This 8 hour tour will take you through an array of fascinating sites that include a visit to the Taawaki Petroglyph Site. You will visit Hopi Villages from Moenkopi, Old Orabi, Hotevilla, Bacavi, Kykotsmovi, Sipaulovi, Musangnuvi and you will visit up to 3 local artists.
Half Day Tour
This 4 hour tour will take you through Taawaki Petroglyph Site; you will visit villages throughout Hopi Land and have the opportunity to visit 1 local artist.
Prices are As Follows:
Full Day Tour
Half Day Tour

$195.00- 1 person
$265.00- 2 people
$300.00- 3 people
$400.00- 4 people

$120.00- 1 person
$160.00- 2 people
$180.00- 3 people
$200.00- 4 people
Any groups for 5+ people require advance reservations that should be scheduled at least 24 hours prior.
All full day rates include bottled water, transportation for 4 people and lunch.
All Half day rates include bottled water and transportation for 4 people.